Corporate Online Banking
If you donít currently bank online, now is the time to try!  You wonít believe how easy it is.  You might even wonder why you didnít start sooner!
With Corporate Online Banking you can:
Check your account balances in real time
See what checks/debits have cleared at a glance
View check images
Transfer money between your Union Bank accounts
Print a copy of a previous monthís statement
Create and send ACH files*
Create and send Wire Transfers*
Give access to employees to accounts that you want them to see
*with additional Bank approval
Add CheckFree Small Business and you can:
Pay bills online
Attach information to your payments to detail which invoices are being paid
Save time by paying bills from your desk
Save postage
Save on printing checks and buying envelopes
Assign bill payment access to individual employees
ACH Manager Tutorial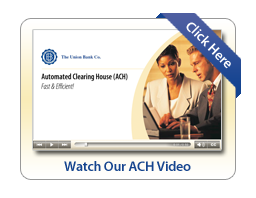 NACHA Rules & Guidelines can be found here.  Clients will need to register as a basic user and set up a User ID and password before they may access a pdf copy of the NACHA Rules.  
Notice: NACHA recently released new ACH Security Framework rules.  Click Here to view a training video designed to help our business clients who initiate ACH files understand their responsibilities under the new rules.  
Call us for more information on CheckFree Small Business at 1-800-837-8111 or ask our Treasury Management department for assistance.