What is an Interactive Teller Machine (ITM)?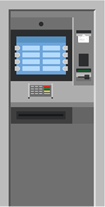 An ITM allows you to speak to and do your banking interactively with one of our local tellers. With our ITM, you can perform several drive-thru banking transactions, such as:
Withdraw cash
Deposit checks and cash
Cash checks down to the penny
Transfer between accounts
Make loan payments
You even get to see one of our local tellers directly on screen as you're making your transaction!
---
---
ITM Hours of Operation
Monday – Friday

Saturday

 

8:30 AM – 5:00 PM

9:00 AM – 12:00 PM



Abby Hornish, Paulding Branch Manager, providing demonstration of our Paulding location ITM: