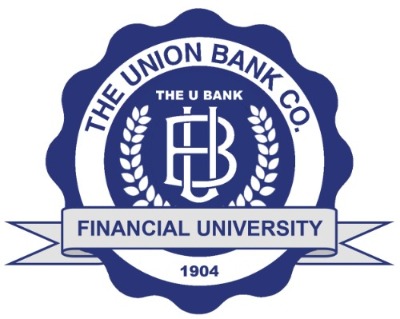 Welcome to the Financial University at THE U BANK!


At The Union Bank Company we believe that providing financial education will allow our customers and communities to develop and accomplish their financial goals.
No matter what phase of life you're in or what financial hurdle you are facing, we have great tools to help with every situation.


Featured Sessions




 
---
Online Banking Data Security
Your bank has security measures to protect your account information, but they can't be effective without your help and cooperation. Many account hijacking attempts come as a result of hacking into individual user accounts, and from there electronically breaking into the bank using your information and security codes.

Here are a few precautions that can help you protect your personal information:
Use strong passwords: Reduce risk of weak personal security and compromised banking by using a random combination of letters and numbers. Avoid using easily guessed passwords such as birthdays or home addresses.
Use anti-virus/maleware protection: Make sure the anti-virus/maleware software on your computer is up-to-date and scans your email as it is received.
Email safety: Be wary of sending any sensitive information such as account numbers or other personal information through email. Only download from reputable sources, such as the bank's website.
Log out: Always log out at the end of your online banking session.
Avoid phishing/social engineering scams: Fraudsters are always trying to access your personal information using various methods. Don't respond to any unusual email requests for personal information. If you are unsure if an email is legitimate, call the bank.
Account monitoring: Check your accounts regularly and let the bank know immediately if something does not seem right. Those who monitor their accounts online often detect fraud earlier than those who rely solely on paper statements.
Avoid free WiFi/public internet: Public WiFi and hotspots are very convenient, but not entirely secure. Avoid performing banking transactions on a public network or hotspot. If you need to access your account, disable the WiFi and switch to your mobile network.
Free credit reports: One of your most important tools when protecting yourself against cyber-fraud is your credit report. It lists all of your credit accounts and will be the first place that unusual charges or entirely new accounts will appear. Federal law permits consumers to obtain a free report annually from each of the three major credit bureau. Experts recommend that you to obtain your free report from a different credit bureau every four months so you can monitor your accounts all year long. To obtain your free credit report, visit www.annualcreditreport.comor call 877-322-8228.


The best line of defense is understanding how fraudsters access your personal information: 
Phishing/Social Engineering: Criminals will attempt to steal your personal information by sending fraudulent emails or texts to your smartphone. Messages are often very convincing and lure you to an unsafe website that asks you to provide or verify personal information and financial details such as account numbers and social security numbers. Remember: the bank will never send emails asking for your personal information.
Card Skimming: Criminals try to gain your personal information by tampering with ATM machines by setting up a device that can capture magnetic stripe and keypad information, such as your PIN and account number. Only use ATMs you know and trust and examine the machine closely for signs of tampering.
Spyware: Criminal use software that a victim unknowingly loads on a personal computer by opening an email or clicking a suspicious link. Once installed on your computer, spyware collects your personal information. Using up-to-date anti-virus software is the best way to defend yourself.
Additional resources you can use to safeguard your personal information are available online:
---
Password Security
Password security has become an important question as more and more of us use online accounts and mobile accounts to access financial information. There are some simple things each of us can do to help protect ourselves online with one of the biggest being the use of "strong" passwords. The keys to a password's strength are length and complexity. An ideal password has letters, punctuation, symbols and numbers and you should try to use as many of these as the website's requirements allow. Passwords should be changed frequently, or at least every 90-days. Do not share your login information with any other individual and avoid using the automatic login features that save your username and password. Following are some other tips:
Avoid creating a password using any personal, financial or identifying information including your birthday, driver's license number, passport number, account number or social security number.

Avoid using a dictionary word or even a word spelled backwards.

Avoid using sequences or repeated characters or adjacent letters on your keyboard such as 1234567 or qwerty.

Do add complexity to your passwords by mixing upper and lower case letters.

Do add numbers or symbols to your password.

Do make your password more difficult to guess by making it more random. For example:

Take a sentence and use the first letter of each word adding upper and lower case letters such as DmYpMdTgBmImR!
Adding symbols to the end adds to the complexity.
---
Identity Theft

Identity theft continues to be a concern for everyone. Identity theft occurs when someone steals your personal information in order to establish credit or borrow money in your name. Measures are in place at your bank to protect your identity and your accounts against fraud and theft. Some examples include verifying your identity before releasing information over the telephone, and more stringent multi-factor authentication for your online transactions. However, maximum security is only possible with your help.
Tips to Help Stop Identity Theft
Do not give out financial information u

nless you know the person or organization.



Report lost or stolen checks, debit cards, or credit cards immediately. 

Payments on them can be blocked.



Notify the bank of suspicious telephone inquiries. 

This includes callers that ask for your account information to "verify" something or award a prize.



Do not respond to "phishing" emails. T

his includes emails that request any financial information or request your social security number.



Guard your PIN number. D

o not give out your PIN number for ATM or debit cards.



Monitor y

our accounts regularly.

 

People that monitor their accounts regularly are more likely to notice account fraud earlier. Report any fraudulent activity to your bank immediately.
The Fair and Accurate Credit Transactions Act (FACT Act) was passed to help reduce identity theft. One of its features allows all consumers to request a free copy of their own credit report. You may obtain your free credit report at www.annualcreditreport.com or by calling 877-322-8228.

---
Identity Theft Checklist
The Federal Trade Commission has launched a new website designed to help victims recover from identity theft. If you've had your identity stolen, you can use the interactive checklist to help you take the steps to recover. The website breaks it down into things to do right away and what you should do next. Even if you have not been a victim of identify theft, the website contains a lot of information that can be useful including how to correct your credit report if you find an error on it. There are sample letters included for use in resolving disputes involving fraud with businesses. Visit www.identitytheft.gov to learn more.
---
MasterCard Identity Theft Alerts Service

MasterCard now offers a new Identity Theft Alerts service, which is completely free to all Union Bank customers with a MasterCard debit/check card. In fact, MasterCard is the only payment network providing this service free of charge! To get started, cardholders should log on to the MasterCard website at www.mastercard.us/idtheftalerts/.

---
FDIC Consumer News
The FDIC publishes a newsletter quarterly with information all consumers can use. The Summer issue is now available. This issue contains articles that can educate you on strategies for managing and protecting your money. You can find the full newsletter on the FDIC website www.fdic.gov.

---
Protecting the Elderly from Financial Abuse
Financial abuse, or financial exploitation, of the elderly is a growing and often unreported crime.  Financial exploitation can occur without the person's knowledge, by trickery, intimidation or coercion, or when the person is too confused to give informed consent. The exploitation can be classified in one of two categories: exploitation by a person known to the victim (family member, caregiver, POA, etc.) or exploitation by a stranger (con artists, bogus charities, unscrupulous salesmen, etc.).
Watch for the following "red flags" that may indicate financial abuse:
Closing CD's or accounts without regard to penalties

ATM withdrawals by a person who has never used a debit or ATM card

New powers of attorney the person does not understand

A caretaker, relative or friend who suddenly begins conducting financial business on the other person's behalf without proper documentation

How can you protect your elderly friends/loved ones and yourself?
Neve

r give out your social security number, account numbers, or any other personal financial information over the phone unless you initiated the call.



Don't open emails from people you do not know.

Shred bank statements, bank receipts, credit card statements and credit cards before throwing them away.

Review your bank and credit card statements regularly and call the institution if you find any instances of unauthorized use.

Do business with companies you know are reputable.

Do not let a stranger talk you into sending them money, this includes strangers who say you've "won money" and those that say they work for a charitable organization (make sure it is for real).

Talk to your local banker if you have questions or concerns.

If you suspect financial abuse, talk to the elderly person and try to determine what is happening. Is there a new person "helping" them with their money or is someone taking advantage of them? Report the financial abuse to the person's banker and enlist their assistance. You may want to contact adult protective services for your area and, all instances of elder financial abuse should be reported to your local law enforcement.

---
U.S. Savings Bonds Go Paperless
You can now buy and manage savings bonds through the Treasury Direct website. Existing paper savings bonds are valid issues of the Treasury Department and will earn interest for 30 years from the issue date or until redeemed. You can convert your paper savings bonds to electronic savings bonds in Treasury Direct using a program called SmartExchange. You may still redeem your paper bonds at most financial institutions, including The Union Bank Company. Visit www.treasurydirect.gov for full details.